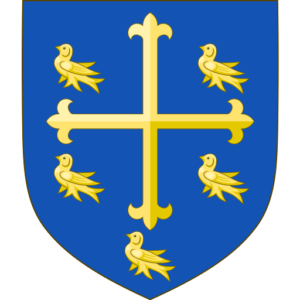 And you shall hallow the fiftieth year and you shall proclaim liberty throughout the land to all its inhabitants. (Leviticus 25:10)
St. Edwards as a parish is 50years old… WOW!… from a church that started in the living room of Hal and Mary Kerkhoff in 1968 to the glorious dedication on September 16, 2001 as a Thanksgiving to God — despite the horrific cloud of the terrorist attacks on the World Trade Center the Pentagon, and the ensuing plane crash in Stonycreek, PA, that only days earlier had shaken the entire country to the core. The whole country was reeling but this little community took time to acknowledge that in the midst of catastrophic loss and destruction our God is a gracious and faithful God who grants us new mercies daily and blesses us with the life, strength and faith that allows us to rise above our human frailty and continue to seek His face. This church has continued to survive tragedy and struggle, the mundane ups and downs that plague us, the sacrifices that we were not even aware that we had the strength to make – all of this to triumphantly reach the ripe age of 50 years. What a blessing!
Hence my title: Counting Our Blessings. Our gracious God through His incarnate Love continues to show us the power of His name "Immanuel" that is, 'God with us.' Looking back at all this church has gone through, good — and not so good, fear of closing moving to an ongoing process of resurgence and growth that now includes a thriving Latino Mission us– we know we have been blessed.
In celebrating the past 50 years let us take time to reflect on how we have been wonderfully blessed, we have had a chance to review what God has done here with His people. We have been truly blessed with clergy who have shepherded this flock through the sunshine and the storms. We have had some wonderful ministries and lay leadership, joyful youth service projects, inspiring worship, and fellowship — all these blessings in the past fifty years… Yes…this is what we celebrate. We celebrate God's faithfulness to his people and ministries from the last 50 years.
We are aware of the reality. Like many other churches, we are facing challenges and a somewhat uncertain future. We believe that God did not build our church only for the first 50 years. Survival is not God's only purpose for His church. We will choose the light of life over the darkness of despair for the next fifty years and shine His light into the world.
The big question is what, and how do we thank God for all the Clergy's and Lay persons who have participated and still participate in the ongoing growth of St. Edward's.
For me the answer is that each of us individually and collectively as a church must continue to be the "Light of Christ" to our community as well to the world. In other words, each of us should live in such a way that others can see the light of Christ shining through us. So also our ministries here at St. Edward's should also reflect that light to our neighbors, our communities and to the world.
Our journey is not done yet. We must continue to work together to build this church to become the blessing in the world that God intends for us by finding new ways of doing church, reaching out to the lost and transforming our community and the world.
This year, as we celebrate our 50th year let us proclaim a new beginning of our ministry. God is calling us to this new adventure. As Jesus said, "The harvest is plentiful, but the workers are few. Ask the Lord of the harvest, therefore, to send out workers into His harvest field".
Can this be done? Absolutely Yes! Why? Because each of us has been blessed with the Power of the Holy Spirit to guide and lead us in all we say and do. All we need to do is accept the power and use it to the glory of God – embrace it with a sense of joy, freedom and renewal.
All we are called to do is to sow the seeds and God will make them grow abundantly.
Blessings!
The Rev. Canon Dr. A Gordon Okunsanya