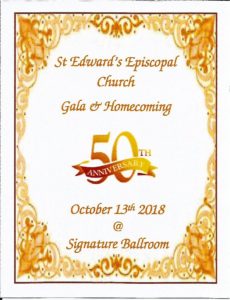 Our Gala is just 3 weeks away!
We have sold over 170 tickets!
Tickets are still available until Sept. 25th. Online at Eventbrite.com or contact Diane Van Slyke:  50thGalaStEdwards@gmail.com
Net ticket proceeds the Youth Scholarship Fund
Gala committee members were invited to the Signature Ballroom's food tasting. The food was DELICIOUS! The menu chosen for the gala is "Food from Around the World". Something for ALL: Chicken, vegetarian, live chef station, desserts, and more!
We have added a Silent Auction beginning after Taizé on Friday and closing out at the BBQ lunch on Sunday.
Former priests and parishioners will be in attendance.  Come share an evening with old friends.
Get your ticket NOW while you still can!