50th Anniversary Homecoming Gala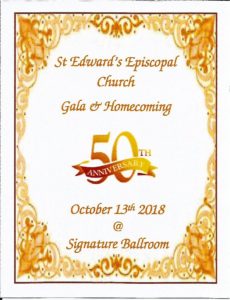 Our Gala is just 3 weeks away!
We have sold over 170 tickets!
Tickets are still available until Sept. 25th. Online at Eventbrite.com or contact Diane Van Slyke:  50thGalaStEdwards@gmail.com
Net ticket proceeds the Youth Scholarship Fund
Gala committee members were invited to the Signature Ballroom's food tasting. The food was DELICIOUS! The menu chosen for the gala is "Food from Around the World". Something for ALL: Chicken, vegetarian, live chef station, desserts, and more!
We have added a Silent Auction beginning after Taizé on Friday and closing out at the BBQ lunch on Sunday.
Former priests and parishioners will be in attendance.  Come share an evening with old friends.
Get your ticket NOW while you still can!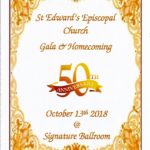 St. Edward's Establishes Youth Scholarship Fund
St. Edward's Youth Scholarship Fund
St. Edward's Gala Committee is proud to announce the formation of a St. Edward's Youth Scholarship Fund with the net proceeds of our Gala ticket collections. Our goal for our youth in the next 50 years is to send them off to school with lots of love and support! Please join us as we celebrate our 50 years together and look to the future by starting a fund to support our youth!  If you would like to donate directly to this fund, please make your check to "St Edward's" and write "Youth Scholarship Fund" in the memo line.
You're Invited! 50th Anniversary Gala & Homecoming Dinner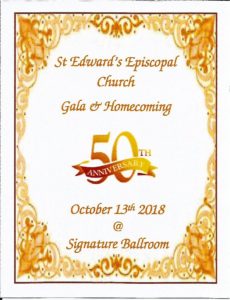 Come Celebrate with us!
Saturday, October 13th at 5pm
Signature Ballroom
80 Horizon Dr
Suwanee, GA
Semi-formal event includes
Dinner, Dancing, & Entertainment!
Tickets $50
Ticket Sales end Sept 1st
Available after service or online at Eventbrite.com
Questions:  50thGalaStEdwards@gmail.com