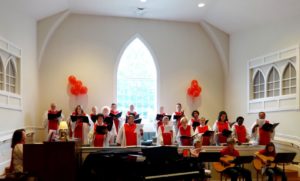 The music program at St. Edward's is made up of roughly 28 intrepid choir members, ranging in age and experience level:  some are professional singers, organists, conductors, and performers; some are just making their foray into the world of choral singing.  It all works!  We pull in musicians from our 'tween and teen population from time to time.
We gather regularly outside our rehearsal schedule, and every week we end our rehearsal time by sharing our concerns and thanksgivings with one another and in prayer.
Our music program is based in the Anglican tradition, but you'll find us using resources from the various approved Episcopal Hymnals and supplemental volumes, Gregorian chant, world music sources, classical music, songs from Catholic missals, the Lutheran hymnal, and standards from the Protestant tradition.
Though we use primarily organ,  piano and flute in a typical service, we also have a cadre of wonderful instrumentalists in the house, and we regularly put them to good use (especially our gifted guitarist when he's in town)!   Our music program is lively and varied and diverse, just like our congregation.
---
Where:
St. Edward's Episcopal Church
737 Moon Road
Lawrenceville, GA 30046
When:
Thursdays: Choir rehearses in the Nave from 7:30 – 9:00 (no mid-week rehearsals in the month of July)
Sundays:  Instrumentalists rehearse at 9:15 in the Chapel.  Choir joins that rehearsal from 9:45 – 10:15
There are extra rehearsals called during the year as needed, to prepare for special services and events.
(The music department also gathers periodically for potluck suppers and "road trips.")
---
We welcome new choristers and instrumentalists.  Please see our choir site at saintedmusic.weebly.com to get more information on how to join.  If you have a musical gift, let us find ways you can use your talents to the glory of God!
---
Program Coordinator and Primary Leader:​
Carla Strott is the music director/organist/pianist/coffee-drinker/sneaky-thermostat-resetter at St. Edward's.
---
Contact Information