A note from Fr. Gordon and Fr. Fabio
Click Here to read full article.
In this time of uncertainty for many churches, St. Edward's is celebrating 50 years! We encourage our members to invite friends and family to come and celebrate this once in a lifetime opportunity.
Come join us to greet new and returning friends.
Come home to St. Edward's and share our story.
If there is a reason you may not attend, such as cost, what to wear, unable to drive at night, prefer not to dance or listen to music, no one with whom you can sit at table, please note there are answers to these concerns!
There will be a time for fellowship and eating before the music and dancing, there are ways to help find you a ride at night, there are many who will attend alone to welcome you at table, and there are ways to help with the cost.
Please contact Fr. Gordon or Fr. Fabio if you need to be assured that this celebration is for everyone and, if at all possible, they will help remove any obstacle preventing you from making plans to attend!
Fr. Gordon and Fr. Fabio can be reached through the office, 770-963-6128.
From Fr. O's Chair…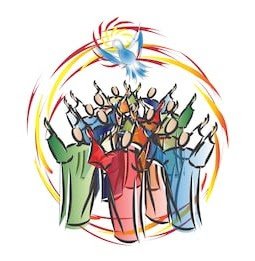 When the day of Pentecost had come, the disciples were all together in one place. And suddenly from heaven there came a sound like the rush of a violent wind, and it filled the entire house where they were sitting. Divided tongues, as of fire, appeared among them, and a tongue rested on each of them. All of them were filled with the Holy Spirit and began to speak in other languages, as the Spirit gave them ability. Acts 2:1-21
My dear Sisters and Brothers in Christ,
I greet you and your loved ones in the Blessed name of our Lord and Savior Jesus Christ!
For me, communication is at the heart of what the parish (and the Church) is about. We have good news to share: we have a faith worth imbibing — and we are being offered God's encouraging Word to take to heart and understand.  Communication is at the heart of this and must involve all available media, as it is as   fundamental to what the Church is about as is  the bread and wine used at the altar – (and like our Eucharistic bread and wine it should be made readily available to all who wish to partake).  This is the first of a series of monthly missives designed to share relevant information, keep our parish up to date on community and local events and provide a forum through which we can expand our understanding of the liturgy and our faith.
I began with the story of the descent of the Holy Spirit – Pentecost — because Pentecost marks the end of the season of Easter; it is from the beginning of our journey that our ending comes.
Popular piety often refers to Pentecost as the "birthday" of the Church. The word itself is Greek and is translated as "fiftieth," and signifies the 50th day after Easter when the Church commemorates the descent of the Holy Spirit upon the apostles. This action of the Holy Spirit is described in terms that the Bible often employs to indicate a manifestation of God. It is accompanied by fiery tongues of flame and strong winds. Those who are reported as having experienced this event spoke in a variety of languages, yet everyone could understand what was being said. On the surface it is not obvious what the meaning of this Pentecost event might be. Is there a way that we can make sense of it?
We began the season with the church in flux a state of rebirth/resurrection and here we close the season by celebrating Pentecost with a church again in a state of flux. Here there is no calm, selfless, quiet atmosphere. But it is like the other description because we are back to seeing unmistakable signs of the Holy Spirit. The gathering is filled with power: fire, water, chaos, darkness, blood and smoky mist. And we witness a gathering of people hearing the Good News of the resurrection of Jesus Christ proclaimed in ways everyone can understand—each in his or her own language – a direct appeal in a language everyone can understand.  This message is for everyone.
The first congregation was a small group of men and women who had committed to a shared life and purpose:
It is an idealized picture of what life in the body of Christ can look like, at its very best. It is a vision of discipleship that is characterized by selflessness, grace, power, boldness, devotion, compassion, and an unyielding commitment to justice.
Now the whole group of those who believed were of one heart and soul, and no one claimed private ownership of any possessions, but everything they owned was held in common. With great power the apostles gave their testimony to the resurrection of the Lord Jesus, and great grace was upon them all. There was not a needy person among them, for as many as owned lands or houses sold them and brought the proceeds of what was sold. They laid it at the apostles' feet and it was distributed to each as any had need" (Acts 4:32-35).
How do we get our church today into this state of flux? Of change?  Of growth?   How do we claim the power of the Holy Spirit anew? How do we capture the sense of selflessness, grace, devotion, compassion and commitment to justice, and also fuel ourselves with the amazing power experienced by the people who had come from all ends of the earth to gather in Jerusalem for the celebration of the Jewish harvest festival of Shavuot?  They had no idea how they were going to be blessed by the Holy Spirit.  They were totally unprepared to receive this unexpected gift that would loosen their tongues, open their hearts and minds to bear witness to the apostles' near apocalyptic frenzy as the Holy Spirit was poured out upon them and they were transformed.
Pentecost is about the moment the church was born. It is about what the church of Jesus Christ is supposed to be. It is about the Holy Spirit bringing people together as one in spite of their differences: different cultures, different languages, different traditions, different beliefs, different interpretations, even different theologies.  Pentecost is about being unified in words, and in a salvation that is for all people…it is about Transformation.
As we celebrate Pentecost this year we also commemorate fifty years as a parish planted to thrive in this place –a parish that in 50 years has celebrated growth and accomplishment – but has also faced darkness and chaos and, though not unscathed – has survived to mark a milestone.  At 51 will we be celebrating renewal and growth or will we be unable as a body to find a way to reconcile:  forgive the debts of those with whom we disagree, restore our lands to their rightful owners, and find a way forward together?
Pentecost invites us to consider our own participation in the fellowship, worship, and mission of the church. It is a time to renew our commitment, to live as an essential member of the body of Christ, using our gifts to build the church and share the love and justice of Christ with the world.
As we commemorate our parish's birth and work towards it's renewal, we give thanks for those who have labored to build this Church and we ask that the abundance of the Holy Spirit be poured out upon this parish as we use the gifts of the Spirit continue to do the work of building God's kingdom here at St. Edward's and in the world.
Pentecost presents us with an opportunity to consider how we are living each day. Are we relying on the power of God's Spirit? Are we an open channel for the Spirit's gifts? Are we attentive to the guidance of the Holy Spirit? Is the fruit of the Spirit (love, joy, peace, etc.) growing in our lives, in our Church?  The community of God's people is central to God's work in the world.  Can we start the next 50 years as the apostles did growing our church and welcoming all?
Let us continue to celebrate this church's beginning as we go forth rejoicing with great hope, proclaiming salvation for all people! Praise be to God the Father, God the Son, and God the Holy Spirit!
De la Silla del Fr. O's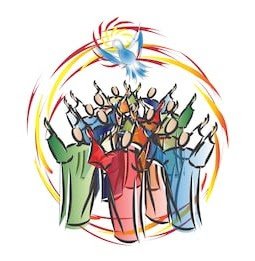 "Cuando llegó el día de Pentecostés, estaban todos reunidos. De repente vino del cielo un ruido, como de viento huracanado, que llenó toda la casa donde se alojaban.    Aparecieron lenguas como de fuego, que descendieron por separado sobre cada uno de ellos. Se llenaron todos de Espíritu Santo y empezaron a hablar en lenguas extranjeras, según el Espíritu les permitía expresarse."
(Hechos 2: 1-3)
Mis queridas hermanas y hermanos en Cristo, Los saludo a todos y a sus seres queridos en el nombre del Señor y Salvador Jesucristo!
Para mi la comunicación es el corazón de lo que debe ser una parroquia (y una iglesia). Tenemos buenas noticias que compartir:  todos nosotros tenemos una fe abundante – y a nosotros se nos ha dado la Palabra alentadora de Dios para tenerla en nuestro corazón y la entendamos. La comunicación está en el corazón de esta noticia, y nosotros debemos utilizar todos los medios al alcance para difundirla, puesto que es tan fundamental como lo es el pan y el vino del altar (y como el pan y el vino, esta comunicación debe estar a disposición de todos los que deseen recibirla). Esta es la primera de una serie de cartas mensuales diseñada para compartir información relevante, actualizar a la parroquia, compartir los eventos que estén sucediendo y proveer un foro a través del cual podamos expandir nuestro entendimiento de nuestra liturgia y de nuestra fe.
Comienzo con la historia de la venida del Espíritu Santo – Pentecostés—porque esta fiesta marca el final del tiempo de Pascua; esto es, desde el comienzo de nuestro camino hasta el final de nuestra vida.
La piedad popular considera a Pentecostés como el "nacimiento" de la Iglesia. La palabra "Pentecostés" proviene del Griego y se traduce como "cincuentavo," significando el 50avo día después de la Pascua cuando la iglesia conmemora la venida del Espíritu Santo sobre los apóstoles. Esta acción del Espíritu Santo es descrito en términos que la Biblia frecuentemente usa para indicar una manifestación de Dios. Está acompañada por lenguas de fuego y fuertes vientos. Todos los que estaban presentes hablaron en una variedad de lenguas y al mismo tiempo todos podían entender lo que allí se decía. Superficialmente es obvio que no se puede entender el verdadero significado de Pentecostés. Puede haber una manera en que encontremos su sentido?
Comenzamos este tiempo con la iglesia en una buena posición, esto es en un nuevo renacimiento/resurrección y cerramos este tiempo con la celebración de Pentecostés, también con la iglesia en buen estado. Aquí no hay una atmósfera de calma o desinterés o silencio, sino una iglesia como la describe los Hechos, estamos viendo signos claros del Espíritu Santo. Nuestras reuniones están llenas de poder: fuego, agua, caos, oscuridad, sangre y humo. Y nosotros damos testimonio de que la gente se reúne para escuchar la Buena Noticia de la resurrección de Jesucristo, proclamado de una manera que todos podamos entender, cada uno en su propio idioma— en un lenguaje que todos pueden entender, dado que el mensaje es para todos.
La primera congregación fue un grupo pequeño de hombres y mujeres que se habían comprometido a compartir su vida y propósito: este es una cuadro idealizado de lo que la vida de Cristo puede parecer en su mejor momento. Esta es una visión de discipulado caracterizado por desinterés, gracia, poder, audacia, devoción, compasión y un inflexible sentido de justicia.
"La multitud de los creyentes tenía una sola alma y un solo corazón. Nadie consideraba sus bienes como propios, sino que todo lo tenían en común. Con gran energía daban testimonio de la resurrección del Señor Jesús y eran muy estimados. No había entre ellos ningún necesitado, porque los que poseían campos o casas los vendían, y entregaban el dinero a los apóstoles, quienes repartían a cada uno según su necesidad." (Hechos 4: 32-35)
Cómo llegamos a tener la iglesia en este buen estado en que estamos? De cambio? De crecimiento? Cómo podemos reclamar el poder del Espíritu Santo Nuevo? Cómo podemos captar el sentido de desinterés, gracia, devoción, compasión y compromiso con la justicia, y al mismo tiempo llenarnos todos nosotros con el poder extraordinario vivido por  toda la gente que había venido de todos los confines de la tierra a reunirse en Jerusalén a la celebración del festival judío de la cosecha llamado Shavuot? Ellos no tenían idea cómo iban a ser bendecidos por el Espíritu Santo. Ellos no estaban preparados para recibir este inesperado regalo a través del cual soltarían sus lenguas, abrirían sus corazones y mentes para ser testigos del casi fenecí apocalíptico de los apóstoles cuando el Espíritu Santo fue derramado sobre ellos y fueron transformados.
Pentecostés es sobre el momento del nacimiento de la iglesia. Es acerca de lo que la iglesia de Cristo debe ser. Es acerca del Espíritu Santo reuniendo a la gente como una sola a pesar de las diferencias: diferentes culturas, diferentes lenguas, diferentes tradiciones, diferentes creencias, diferentes interpretaciones, aún diversas teologías. Pentecostés es acerca de estar unidos en palabras y en la salvación que es para todo mundo… es a cerca del ser Transformados.
Al mismo tiempo que celebramos Pentecostés, este año también conmemoramos cincuenta años como parroquia, hemos sido sembrados aquí en este lugar para prosperar– una parroquia que en cincuenta años ha celebrado crecimiento y logro – aunque también se ha enfrentado a caos y oscuridad y, aunque no libre de error – ha sobrevivido para marcar este hito. Para el aniversario 51 estaremos celebrando renovación y crecimiento o no podremos reconciliarnos como un solo cuerpo: perdonaremos las deudas de los que no piensan como nosotros, retornaremos los campos a sus propietarios, y encontraremos un camino futuro para todos?
Pentecostés invita a considerar nuestra propia participación en las reuniones, liturgia y misión de la iglesia. Este es un tiempo de renovar nuestro compromiso a vivir como un miembro esencial del cuerpo de Cristo, usando nuestros dones para construir la iglesia y compartir el amor y la justicia de Cristo con el mundo.
Al mismo tiempo que conmemoramos nuestro nacimiento como parroquia y trabajamos hacia su renovación, damos gracias por todos aquellos que han trabajado para construir esta iglesia y pedimos que la abundancia del Espíritu Santo sea derramado sobre ella para que nos permita usar sus dones para continuar construyendo el reino de Dios aquí en San Eduardo y en el mundo. Pentecostés nos da la oportunidad para considerar cómo estamos viviendo cada día. Estamos confiando en el poder del Espíritu Santo? Somos un canal abierto para sus dones? Estamos atentos a su guía? Están los frutos del Espíritu (amor, gozo, paz, etc.) creciendo en nuestras vidas, en nuestra iglesia? La comunidad del pueblo de Dios es central en la obra de Dios en el mundo. Podemos comenzar nuestros próximos 50 años como lo hicieron los apóstoles haciendo crecer la iglesia dando la bienvenida a todos?
Continuemos celebrando este inicio de la iglesia y caminemos hacia adelante regocijados con gran esperanza, proclamando la salvación para todos! Alabado sea Dios Padre, Dios Hijo, y Dios Espíritu Santo.