Acolyte Instructional Guide Now Available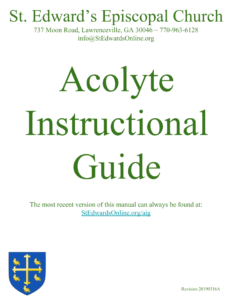 A newly create instructional guide is now available online. All acolytes should familiarize themselves with it. The guide will be updated regularly so check back often.
You can always find the most recent version of the guide at this link:
https://StEdwardsOnline.org/aig
If you have any questions, contact Salena Sandford Staub or Ted Ruchalski
Acolyte Ministry Annual Report 2018
Acolyte Ministry 2018 Annual Report
What is the Acolyte Ministry?
The Acolyte Ministry is a worship ministry of individuals in our community that serve
weekly to help lead our parish community in worship by serving on the alter and serving
God.
Who are the Acolytes?
They are trained individuals in the rituals of worship who serve weekly during all three
services. They show up early and sometimes stay late to do the work of God for our
worship services. They include Crucifers, Gospel Bearers, Torch Bearers, Thurifers, and
Boat Bearers. We have 8 trained acolytes for the 8AM service. We have 16 active and
trained acolytes for the 10AM service. We have at least 4 that are awaiting our next
training to join the ministry. They are comprised of both our youth and adults from our
parish community.
2018 in Review
With a change in transitional priests, the acolytes were very busy learning the ways of Fr.
Gordon. We held two training and meeting events this year. The acolytes practiced often
for regular services as well as special services including our 50th Anniversary service. As
a group, we became more consistent in our service practices, and continue to explore
ways to help make the worship services meaningful for all of our parishioners. The
group supports each other by filling in, in just a minutes notice.
Expenses vary depending on the condition of our vestments. Items within the budget
include cottas, cassocks, albs, printing for manuals and training, scholarships for diocesan
training, and light refreshments when we meet as a ministry.
In 2019, the goals are to complete an updated acolyte guide, hold 2-4 trainings/meetings,
develop current and new acolytes, participate in diocesan acolyte event(s), and have one
social event as a ministry.
If anyone is called to serve our community and God in this way, please contact the chairs
of the ministry, Salena L. Sandford Staub, at 770-606-7203 or salenamoon@bellsouth.net
or Ted Ruchalski at stedted@ruchala.com.
Salena Staub and Ted Ruchalski
Acolyte Training – Saturday, July 28th
Acolyting is not just for kids! Have you ever wanted to serve at the altar during service? Please come join us for our training session and become a part of our St. Edward's Acolyte Ministry. All adults and youth are invited to join us for Acolyte Training.
All current and aspiring acolytes are asked to attend.
When: Saturday, July 28th – 9:00 AM
Where: St. Edward's Episcopal Church – Gathering Room (former nursery)
Agenda:
9AM-9:15AM – Meet and Greet with coffee, juice and pastries
9:15AM-10AM – Gospel and Torch Training including Practice
10AM-11AM – Crucifer Training including Practice
Hope to see you there!